Fin recension i PeekAboo Music Magazine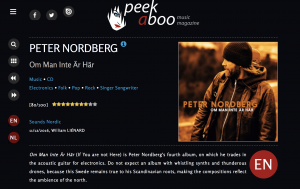 Om Man Inte Är Här (If You are not Here) is Peter Nordberg's fourth album, on which he trades in the acoustic guitar for electronics. Do not expect an album with whistling synths and thunderous drones, because this Swede remains true to his Scandinavian roots, making the compositions reflect the ambience of the north.
Till Jags Vem Vet Jag Ar is a great song, because you can barely escape the combination of melodious guitar-like synths, saxophone sounds and Nordberg's soft Swedish voice. The choir parts sound wonderful. Orden Mellan Raderna is a logical sequel, again with splendid vocals, rumbling percussion and gently gurgling synths: a beautiful and powerful rock ballad. We don't understand the lyrics, but title song Om Man Inte Är Här convinces immediately, with the same ingredients, but strong in terms of composition and arrangement. I Borjan Av September follows seamlessly, because again Peter Nordberg has a fascinating melody in store and again his voice sounds so beautiful.
Luft gets remarkably electronic sounds, occasionally some noise and voices, but everything in moderation. The pace is slow and Nordberg sounds alternately dark and exuberant (chorus), while Om Du Lamnar Mig Nu Ger Jag Fan I Helan Solen unfolds as a driven rock ballad in which the Swede is at full strength, but in which he also leaves room for introspection and quiet moments. Again wonderful. The same goes for Dom Ljuger, in which he creates a perfect atmosphere, and for Visst Drommer Jag om Dig Stavanger, a song that grows into a big ballad in no time, supported by emphatic percussion and a beautiful piano. The rock song that a-ha never wrote…
Kanske Jag Sover is light and dark at the same time. In the chorus you think of The Police and you see a young Sting waving his guitar, while the track is perfectly in place on this CD. Peter Nordberg pulls the melodies out of the hat as if it were the most normal thing in the world. And he can convince in a calm way too, because Om Du Tror Mig only turns into a rock ballad in the second half, again with catchy multiple voices and gently bobbing electronics. Nordberg has preserved the sensitive but short ballad Aven Om Jag Glommer (Even if I Forget) for the finale: a nice conclusion of a special album.
Maybe a little too little variation on this CD, but it all sounds excellent and lovers of quality music (pop and rock) will agree: if this was an English-language album, then it surely would be picked up everywhere… so, give it a try!
Tracklist:
1. Till Jags Vet Vem Jag Ar
2. Orden Mellan Raderna
3. Om Man Inte Är Här
4. I Borjan Av September
5. Luft
6. Om Du Lamnar Mig Nu Ger Jag Fan I Helan Solen
7. Dom Ljuger
8. Visst Drommer Jag Om Dig Stavanger
9. Kanske Jag Sover
10. Om Du Tror Mig
11. Aven Om Jag Glommer
William LIÉNARD
15/08/2016
---
Om Man inte Är Här (If you are not Here) is Peter Nordbergs vierde album, waarop hij de akoestische gitaar inruilt voor elektronica. Verwacht niet meteen een album met fluitende synths of donderende drones, want deze Zweed blijft trouw aan z'n Scandinavische roots waardoor de composities doordrongen zijn van sfeer van het hoge noorden.
Till Jags Vet Vem Jag Ar is meteen een schot de roos, want aan de combinatie van welluidende gitaarachtige synths, saxofoongeluid en Nordbergs zacht Zweeds stemgeluid is nauwelijks te ontsnappen. Het koortje is overigens wondermooi. Orden Mellan Raderna is een logisch vervolg, opnieuw met prachtige vocalen, roffelende percussie en zacht ruisende synths: zondermeer een prachtige en sterke rockballade. We begrijpen er geen jota van, maar titelsong Om Man Inte Är Här overtuigt meteen, met dezelfde ingrediënten, maar sterk qua compositie en wondermooi qua zangstem. I Borjan Av September sluit naadloos aan zonder dat er sprake is van herhaling, want opnieuw heeft Peter Nordberg een boeiende melodie in petto terwijl we niet genoeg krijgen van z'n prachtige stem.
Luft krijgt verrassend elektronicageluid, af en toe wat geruis en stemmen, maar alles met mate. Het tempo ligt laag en Nordberg klinkt afwisselend donker en uitbundig (refrein), terwijl Om Du Lamnar Mig Nu Ger Jag Fan I Helan Solen zich ontspint als een geheide rockballade waarin de Zweed voluit gaat, maar ook ruimte laat voor introspectie en stille momenten. Opnieuw wondermooi. Hetzelfde geldt voor Dom Ljuger, waarin de elektronica voor een perfecte sfeer zorgt en Norberg de longen uit het lijf zingt, en eveneens voor Visst Drommer Jag Om Dig Stavanger, dat in geen tijd uitgroeit tot een grote ballade, gesteund door nadrukkelijk slagwerk en een prachtige piano, de rocksong die a-ha nooit heeft geschreven…
Kanske Jag Sover is licht en donker tegelijk. In het refrein denk je aan The Police en zie je de jonge Sting met z'n gitaar zwaaien, terwijl de track hier toch perfect op z'n plaats is. Peter Nordberg schudt de melodieën uit z'n mouw alsof het hem geen enkele moeite kost. En dat hij ook op een rustige manier kan overtuigen, dat bewijst hij in Om Du Tror Mig, dat pas in de tweede helft uitgroeit tot een rockballade, opnieuw met aanstekelijke meervoudige stemmen en zacht dobberende elektronica. Voor de finale heeft Nordberg het gevoelige Aven Om Jag Glommer (Zelfs als ik Vergeet) bewaard. Kort en goed, moet hij hebben gedacht, maar wel heel erg mooi.
Misschien net iets te weinig variatie op deze cd, maar het klinkt wel allemaal uitstekend en liefhebbers van de betere pop- en rockmuziek zullen het daarmee eens zijn. Mocht dit een Engelstalig album zijn, dan was de schade niet te overzien…
Tracklist:
1. Till Jags Vet Vem Jag Ar
2. Orden Mellan Raderna
3. Om Man Inte Är Här
4. I Borjan Av September
5. Luft
6. Om Du Lamnar Mig Nu Ger Jag Fan I Helan Solen
7. Dom Ljuger
8. Visst Drommer Jag Om Dig Stavanger
9. Kanske Jag Sover
10. Om Du Tror Mig
11. Aven Om Jag Glommer
William LIÉNARD
15/08/2016